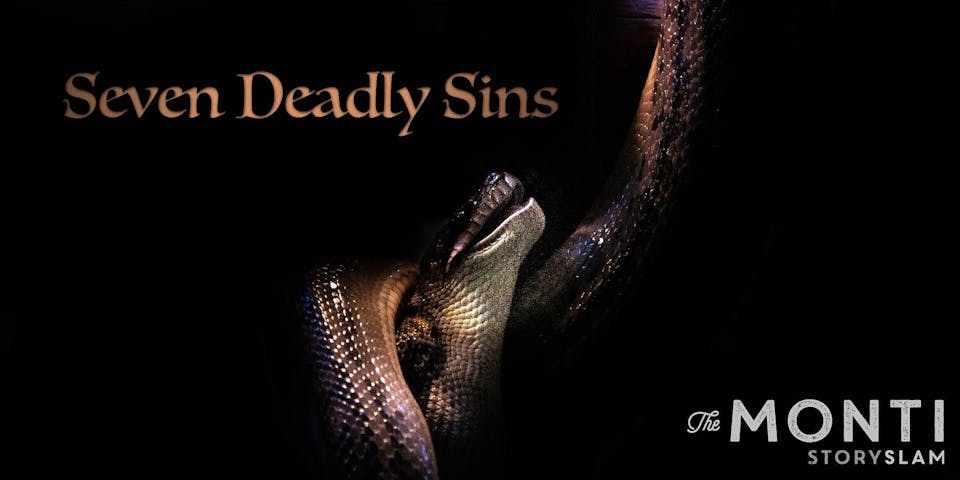 The Monti StorySLAM— 7 Deadly Sins
The Monti StorySLAM— 7 Deadly Sins
About The Monti StorySLAM (18 & up event)
The Monti StorySLAM is an open storytelling event, where anyone with a story on a certain theme has a chance to tell it. This is a competitive event, so there will be judges in the audience. At each event, there will be eight storytellers chosen at random; each story is five minutes long; one winner will be declared at the end of the night. Here's how you can tell your story:
1. We publicize a theme (this show's theme is 7 Deadly Sins)
2. You think, "Hey, I have a story that goes with that theme!"
3. You buy a ticket.
4. You practice your five-minute story at home and in your car.
5. You show up and fill out a form stating that you would like to tell a story (NOTE: You DO NOT have to tell a story to attend. You can just sit back and enjoy the show.)
6. During the show, we will pick names from a hat at random, one at a time, and each person called will have five minutes to tell their story.
7. After eight stories have been told, one winner will be declared!
Winners from each StorySLAM will qualify for The Monti GrandSLAM 2020. The GrandSLAM brings the winners back to compete for the ultimate title of The Monti GrandSLAMpion!