Sat Feb 19, 2022 12:00 pm
Our policies are the following:
We request that everyone attending a show be vaccinated against COVID-19
Do not attend any event if experiencing any symptoms such as fever, cough or loss of taste/smell
You may be required to wear a mask in all indoor spaces at Motorco and Parts & Labor
You may be required to submit to a temperature check upon entry (and not allowed entry if temperature is 100.4 degrees or higher)
We will not offer refunds to any show unless there is a cancellation or postponement of the Headlining act (opening acts subject to change without notice).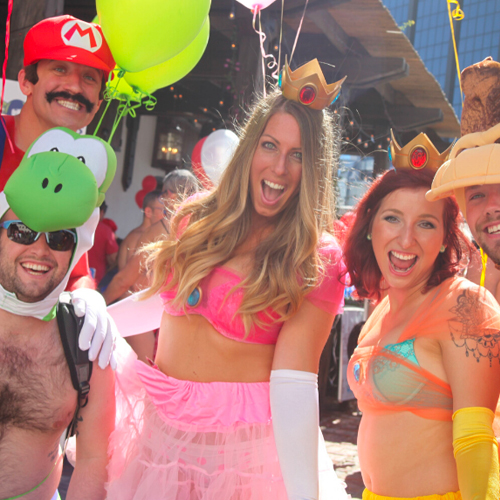 Cupid's Undie Run is the largest pantless party and indie run in the nation. We bare it all to raise money and awareness of neurofibromatosis (NF), a rare genetic disorder that impacts 1 in 3000. 100% of net proceeds fund research through our partner the Children's Tumor Foundation. For more …
THE ENTIRE NEIGHBORHOOD IS INVITED TO PARTY. RUN. PARTY.
WITH A PURPOSE
Registration for the 2022 Cupid's Undie Run is open! While we understand that there is still a lot of uncertainty about what the future holds, we remain optimistic that we will be able to party pantless in-person come next February. Our focus remains on fundraising to find a cure for neurofibromatosis (NF). We are continuing to monitor all National, State, and local public health guidelines in order to give you the Cupid's event you know and love, while ensuring the safety of our runners, event directors, staff, and volunteers! If you have questions, please contact info@cupids.org.
WHY WE RUN IN OUR UNDIES
We run in our undies because those affected by NF can't cover up their tumors. They can't put on clothes to feel more comfortable, so why should we? Since 2010, we have brought together over 108,600 undie runners to build a community of supporters that just won't quit. Our community has raised over $21,700,000 since the inception of Cupid's Undie Run, with 100% of net proceeds funding NF research, through our partner the Children's Tumor Foundation. And we are seeing real results, including a ground-breaking clinical trial where 70% of participants experienced 20-50% tumor reduction! But we aren't even close to being done, and we won't stop until we #EndNF.